What a week! Since my semester ended, I have been busier than ever outside of my studio. I'm itching to get back to work.
On Sunday I attended my first BookCon where I spoke on a panel with Cheryl Willis-Hudson, Rita WIlliams-Garcia, and Jerdine Nolen. The panel was moderated by Vanesse Lloyd-Sgambatti. Our topic was Finding Storytellers in a MultiCultural World. We focused our efforts on encouraging people to BUY books to keep them on the shelves. Many thanks to our moderator and champion of books, Vanesse Lloyd-Sgambatti who organized the event and invited me up. Her African American Book Festival is one of the largest events in Philly where people flock to buy picture books featuring people of color. You can read about another panel she moderated at BEA here.
It's great that we are talking more about diversity in this country, but unless we evolve into a more inclusive society, and (paraphrasing from Jerdine Nolen) allow our hearts and minds to open more to one another's sameness and difference, we will still be talking years from now. My motto in life is, "Don't talk about it; be about it". My personal charge is to make books of high quality that reflect many sides of our society as best as I know how.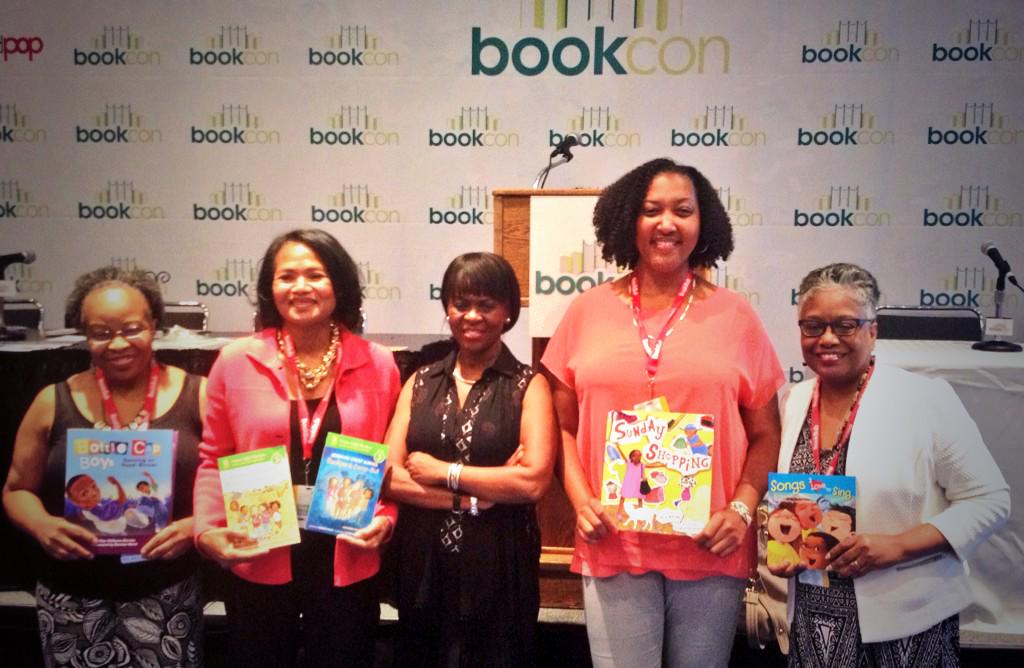 I also believe in promoting books of extremely high quality – where art and story work together to create an experience for a child. It pains me to no end to see books (especially books with people of color) where the art detracts from the story because it just isn't strong, or vice versa. Sadly, so many people think that writing and illustrating books for children is a piece of cake. I can't tell you how many people I have met who have written a children's book or have an idea for one and think that they can press a magic button to become an author. Most of those stories are poorly conceived of and poorly written. Most people who want to publish those stories have never visited a children's bookstore or library and can list possibly five picture books that they have read to their kids. A lot of those folks think they can just find an artist and who will make the pictures and make their book sellable.
I'm not saying that people shouldn't try or follow their dreams to publication, but I am saying that just because you can put a band-aid on a wound, doesn't mean you should start calling yourself a doctor.
One of my close friends and I have an ongoing debate on what being an artist means. She believes that if you are an artist, you don't have to be working steadily, that it is intrinsic to who you are. I believe that being an artist is a constant pursuit. You have to constantly work to evolve more and more into it. Sure, I always drew and painted and made stories as a child, but after graduating from college with a B.F.A, I didn't call myself an artist (much to my dismay-my mother did-to anyone who would listen). It wasn't until I took a leap and moved to NY to pursue my career and made more and more work (most bad, but some good) that I began claiming the title.  Enough of my philosophising.

On Tuesday, I went back to NY to attend the Center For the Book's New York State Writer's Hall of Fame induction ceremony at The Princeton Club. Ezra Jack Keats was inducted this year along with Allen Ginsberg, Francine Prose, Colm Toibin, Isaac Asimov, Dawn Powell & David Remnick. E. B. Lewis gave the induction speech for Ezra, and Dr. Deborah Pope, executive director of The Ezra Jack Keats Foundation, received the award on Ezra's behalf. It was a wonderful event and I am honored to have been included and share a room with great literary minds and artists. Paul O. Zelinsky, Deborah Hallen, Tonya Cherie Hegamin, Fran Manushkin, were a few of the honored guests.
On Wednesday I visited my friend and mentor, Pat Cummings. We spent a lot of time commiserating about our students, but the goal of my visit was to hand deliver her copy of SUNDAY SHOPPING. I dedicated the book to Pat because she is the first African American female illustrator I really related to on my journey to becoming a book illustrator. I fell in love with JUST US WOMEN and C.L.O.U.D.S. as a child. As a young woman, her TALKING WITH THE ARTISTS series helped me envision a path for myself as an illustrator. Her work continues to inspire me to this day. When I moved to NY to pursue my dreams of becoming an illustrator, I sought her out for guidance. Not only was she as wonderfully open, charming, and funny as her work, she was also extremely generous and thoughtful. Because of Pat, I met and worked with Chris Myers and landed my part time design job with BloomsburyUSA. As a professor of illustration at MICA, I try to take the same care with my own talented students who are trying to break into the field. As a professional artist, her work shows me that my books can be as diverse and whimsical as I want them to be. Unfortunately, I didn't get a picture with her this time (it was an easy Sunday home visit, after all), but here is one of us at the Reginald F. Lewis Book Festival from last year.
Fun times! Now, back to work~