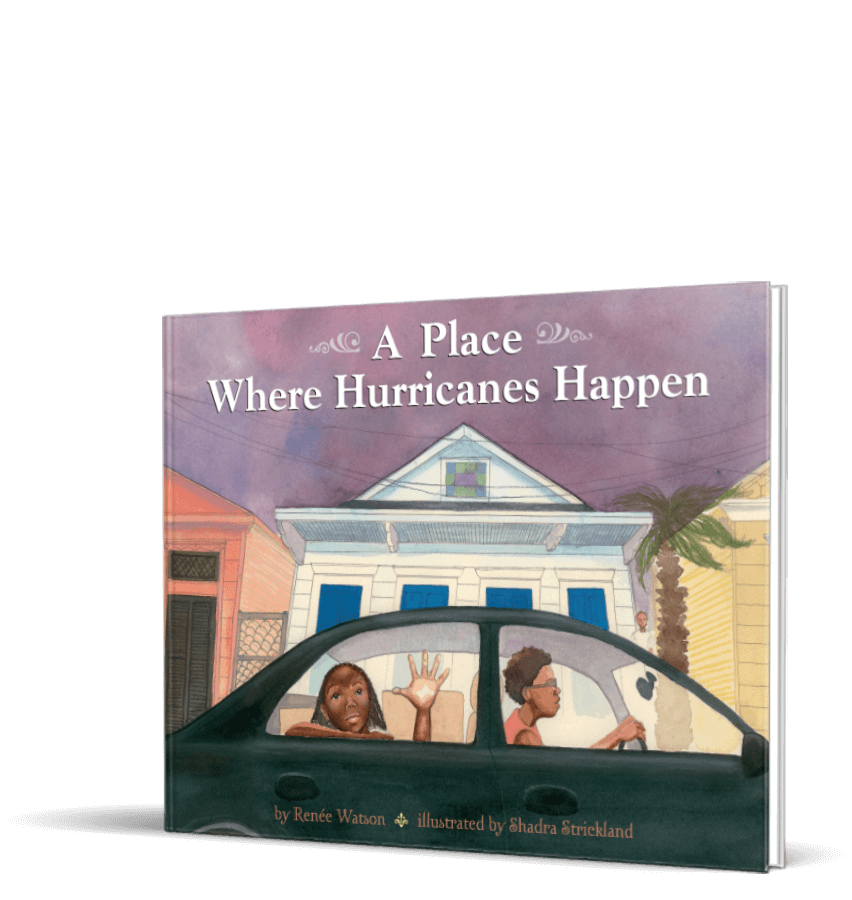 Random House Books for Young Readers
Ages 5-9, 40 pages
Best Children's Books of the Year, Bank Street College of Education
Junior Library Guild Selection
A Place Where Hurricanes Happen
by Renee Watson (Author), Shadra Strickland (Illustrator)
Renée Watson's lyrical free verse is perfectly matched in Shadra Strickland's vivid mixed media art. Together they celebrate the spirit and resiliency of New Orleans, especially its children.
Natural and man-made disasters are becoming more commonplace in children's lives, and this touching free-verse picture book provides a straightforward account of Hurricane Katrina. In alternating voices, four friends describe their lives before, during, and after the storm and how, even though the world can change in a heartbeat, people define the character of their community and offer one another comfort and hope even in the darkest hours.
Adrienne, Keesha, Michael, and Tommy have been friends for forever. They live on the same street—a street in New Orleans where everyone knows everybody. They play together all day long, every chance they get. It's always been that way. But then people start talking about a storm headed straight for New Orleans. The kids must part ways, since each family deals with Hurricane Katrina in a different manner. And suddenly everything that felt like home is gone.
"The text is lyrical and realistically portrays a child's point of view, deftly describing in a few words how the children are affected… The evocative watercolor-and-ink illustrations in soft pastels and grays limn the devastation but also the good times of the neighborhood to great effect. Perhaps the most striking picture is the spread showing the flooded streets on which the children had played the day before. This is one of the best books for children to come out of the tragedy of Katrina. In a few short verses, it beautifully encapsulates the story of the tragedy in words and pictures that children can understand, without dwelling on the horror, but emphasizing the hope and healing power of friendship and community."
—Judith Constantinides, formerly at East Baton Rouge Parish Main Library, LA
"Like Jewell Parker Rhodes' Ninth Ward (2010), Watson's debut picture book for older readers tells the story of Hurricane Katrina and its aftermath for a young audience… In vibrant, mixed-media images, award-winning illustrator Strickland extends the drama, feeling, and individual stories."
—Hazel Rochman