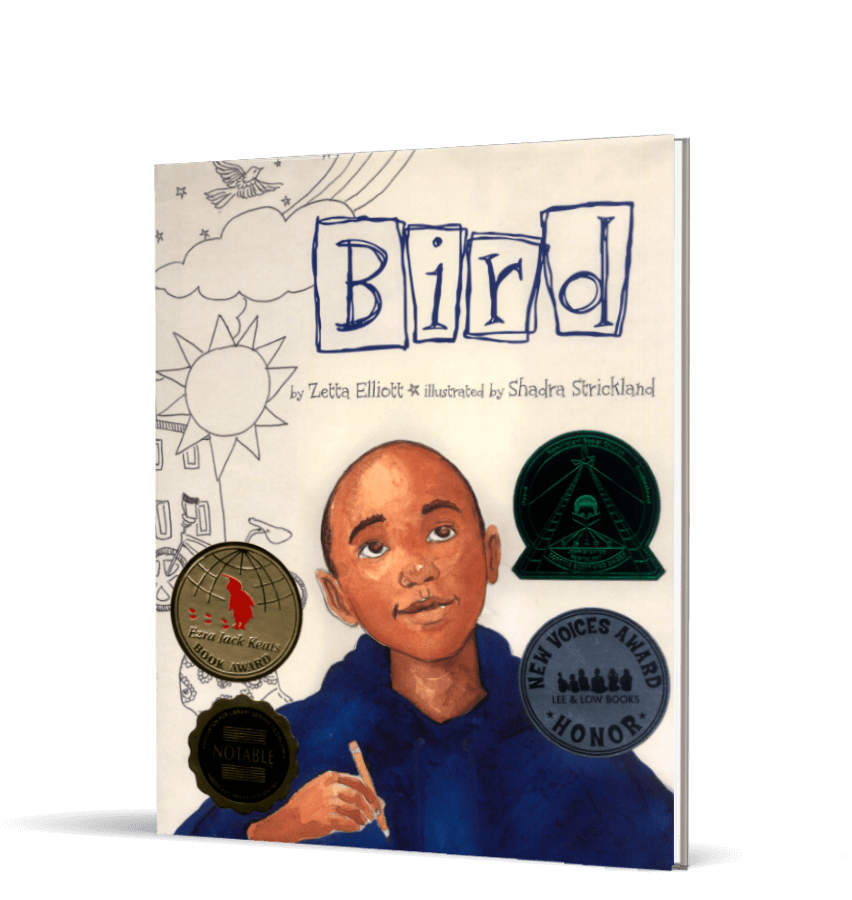 Lee & Low Books
For ages 7-10, 48 pages
Coretta Scott King/John Steptoe Award for New Talent in Illustrations
Ezra Jack Keats Book Award
Best Books, Kirkus Reviews
Editor's Favorites, The Bloomsbury Review
Notable Children's Book, Association for Library Service to Children (ALSC)
Children's Books of the Year, Cooperative Children's Book Center (CCBC)
Story Telling World Award, Storytelling Magazine
by Kristin Rosetta Elliott Hood (author) and Shadra Strickland (illustrator)
In this gentle, award-winning picture book, an African American boy nicknamed Bird uses drawing as a creative outlet as he struggles to make sense of his grandfather's death and his brother's drug addiction.
Young Mekhai, better known as Bird, loves to draw. With drawings, he can erase the things that don't turn out right. In real life, problems aren't so easily fixed.
As Bird struggles to understand the death of his beloved grandfather and his older brother's drug addiction, he escapes into his art. Drawing is an outlet for Bird's emotions and imagination, and provides a path to making sense of his world. In time, with the help of his grandfather's friend, Bird finds his own special somethin' and wings to fly.
Told with spare grace, Bird is a touching look at a young boy coping with real-life troubles. Readers will be heartened by Bird's quiet resilience, and moved by the healing power of putting pencil to paper.
Bird, the recipient of Lee & Low's New Voices Award Honor, is the first picture book of both Zetta Elliot and Shadra Strickland.
"With unusual depth and raw conviction, Elliott's child-centered narrative excels in this debut." —Kirkus Reviews, starred review
"From a first-time author and illustrator comes a sad truth of contemporary life successfully leavened with hopeful optimism."
—School Library Journal
"In this beautiful picture book for older readers, Elliott and Strickland tell a moving story in spare free verse and clear mixed-media pictures of an African American boy who loves to draw."
—Booklist
"[A] stunning debut for both the author and the artist."
—Ginny Moore Kruse, Emerita Director, Cooperative Children's Book Center (CCBC)