I checked two major items off of my bucket list last week – driving to Maine, and visiting Ashley Bryan on Little Cranberry Island. When Deb Taylor asked if I wanted to drive up with her, it was a no brainer. Prior to our departure, a large hurricane had barreled up the east coast causing minor damage to the island but briefly leaving people without power and water. The day that we drove up was perfectly sunny and calm.
The farthest north I had ever driven was to Boston back in 1999 when my mother took me on a college tour. BU was one of my choices. I had never given New England much thought outside of that. Looking back now, I don't have any real explanation for my disregard of the great north, other than the fact that I didn't personally know anyone from the region. In my mind, New York City was the edge of the world.
The first thing I noticed when we reached Maine was a purplish tinge that hung on the bare bark of trees lining the highway. I thought I was hallucinating from having been on the road too long with too little sleep, but when I asked Deb to confirm what I was seeing, she agreed. The trees were purple!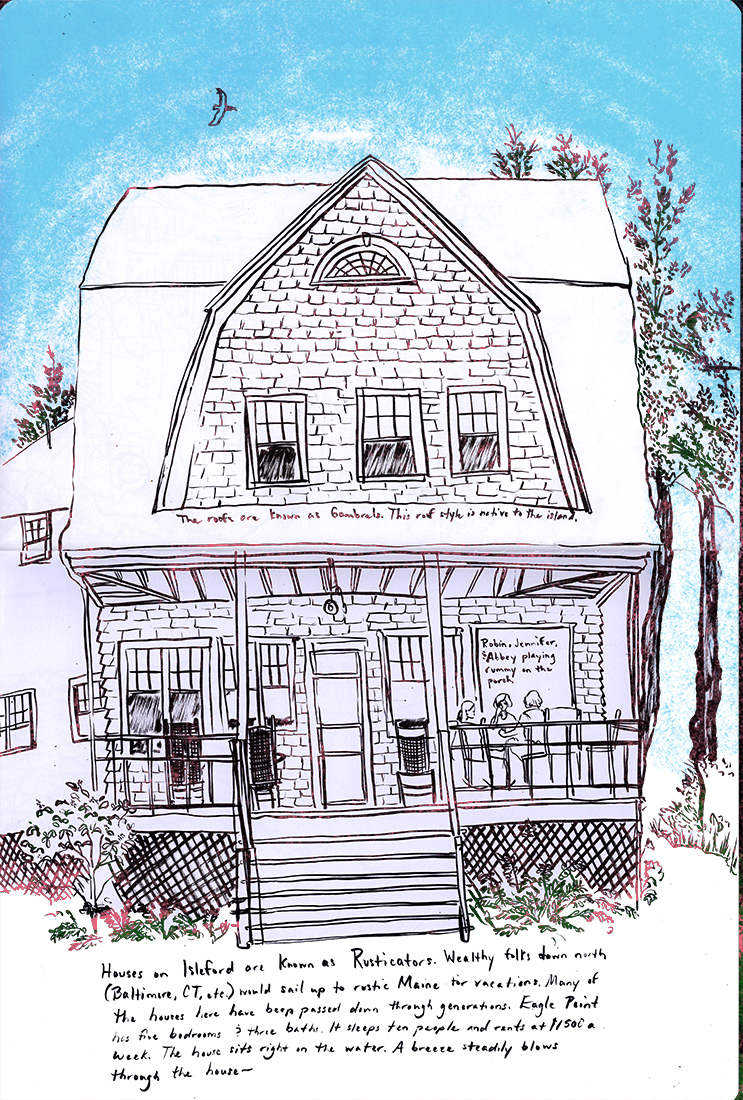 We spent the night in Ellsworth and then headed out about half an hour east to catch the ferry in Bar Harbor the next morning. Bar Harbor was the picture of Maine I carried in my head from Time of Wonder. Our little ferry (a.k.a. the mail boat) carried us across to Islesford (a.k.a. Little Cranberry Island) in about fifteen minutes.
Robin and Dean waited for us at the dock with a small wheelbarrow-like carrier for our luggage. Our tour of the island began at "the mall" a restaurant, art gallery, tourist shop and rest stop all in one. There at the dock restaurant, I ate my very first Maine lobster roll. Heaven. I also caught a glimpse of Ashley! Deb and I went over to make our presence known and Ashley immediately invited us to come over to his house after lunch.
The house we stayed in was a larger late 19th century rusticator. It was a five bedroom country house that sat near the water and slept ten people. There were eight of us in the house for the week – two librarians, three teachers, a teenager, an artist, and a family friend with a wicked sense of deadpan humor. The wood was exposed, very much like Jonathan's family treasure from Building Our House, and the house was decorated with lovely island accents and old family photographs.
I could barely wait to get to Ashley.
His charming island house was about a ten minute walk from where we all stayed. As with most houses on the island, it remained unlocked with a "come-on-in" policy. Deb and I headed over on our first day and were given a preview of his latest book, a collection of Langston Hughes poems (I won't be more specific in the interest of publication privacy). Seeing the cut paper illustrations up close was a gift. The week we arrived was the week of his opening. Due to the hurricane damage, the big event had to be postponed. A tree fell near the museum that housed the work, but did not do any damage to the building, thank goodness.
The rest of my days were spent reading and drawing. I woke each day around 8AM to a breezy 74 degrees or so. We would have coffee near the window while Abby worked on her 1000 piece puzzle. Robin would knit, and the rest of the house would quietly read. In the evenings we played trivia and card games. After breakfast, I would head out with my sketchbook to explore and spend time with Ashley.
On my first day alone with Ashley, we compared sketchbooks. I shared my drawings from Africa and he shared his drawer full of sketchbooks from Germany and France. He shared his cut paper collages and I showed him my digital ones. His entire house was a museum. The walls were lined with books, toys, weavings, prints, and paintings. Airplanes hung from his ceilings. When I arrived, he was preparing a canvas to paint in the garden. We collected his morning materials and headed out. I drew. He painted.
A few hours later, we came in for lunch and I was able to meet Ashley's nieces and nephews. Ashley graciously prepared bread, cold cuts, and cheese for us to lunch on. The big treat of the day, cranberry soda mixed with orange juice! We discussed the Kara Walker sculpture and the insensitivity to things misunderstood along with education and family. It was a lovely afternoon.
My observation of the day was that all of Ashley's relatives had the "ey" sound at the end of their names. No doubt stemming from his family's love of music. Once the table was cleared Ashley brought down the work from his latest book to which he exclaimed "Gather 'round children!". It was time to hear some poetry. And all of us "children" obliged and sat to listen and admire the vivid cut paper collages.
We got a call after lunch saying that the museum was open briefly and we could head down to see the exhibition. I gathered Robin and the crew and we all bounded over to have a personal tour of the exhibit from Ashley. What a treat. The walls sung with color and art. There was a timeline of Ashley's art and his 92 years of life, many selections from his hundreds of sketchbooks, a fantastic display of his handmade puppets, his amazing sea glass windows, and of course, original art from many of his popular books, including "Beautiful Blackbird", "Let it Shine", and "The Dancing Granny".
The next day, after breakfast and reading (I made it through half of Octavian Nothing), I said goodbye to my friends and struck out to draw on the island. The docks were full of activity, so I plopped myself down and began a drawing of the Cranberry Isle Fisherman's Co-op. It was the end of the work morning, so most were packing up and heading home. While drawing I met Stephanie Alley. After a bit of conversation I realized she was a famous Captain on the island and gave lobster tours on her boat. The next morning, I grabbed Abby and headed on down for a lobster boat adventure. Robin had mentioned Stephanie's tours the night before and serendipity brought us together.
After our morning adventure, I found myself back at Ashley's house. I hadn't planned to bother him that day, so I sat outside on the curb to draw his home. No more than fifteen minutes had gone by when he and his dear friend, Suze popped out of the house to head over to the museum and greet fans. I was still drawing when he returned home an hour later. Being extremely hospitable, Ashley didn't just disappear inside his home. He came out to make a few notes from the painting he began the day before, which ended up being my cue to come on in for a spell. Knowing that he had already had a long day, I excused myself shortly after he settled inside.
My last day on the island, I was itching to make a strong portrait of Ashley. I struck out to his house mid day and let myself in to an empty house. Though his door was open to me, I still felt strange hanging out in his empty home. I went outside and finished an earlier drawing and by the time I was done, Ashley appeared. It had been another long day for Ashley and he was expecting more guests, so I didn't force myself. We had dinner plans at the house that evening, so I headed back to read more of Octavian, which turned into a delicious nap in the sun next to the picture window.
Dinnertime came and we all rallied around Ashley. Dean prepared a wonderful brisket that he had brought over by the mail boat. We had been all abuzz over it throughout the week. Ashley sat and announced, "okay, draw me!". No pressure there. I made three miserable attempts at a portrait and gave up. During dinner, when the plates were cleared and dessert was brought out (Robin prepared a delicious lemon ice box pie), I grabbed my drawing book and began again, finally capturing Ashley's spirit.
Deb and I said our goodbyes the next morning and headed back to Bar Harbor, passing along the boat ticket to Robin and Dean's daughter, Julie. What a treat. "A Visit with Ashley Bryan" will be on display until September 20th on Little Cranberry Island. If you can head over, I highly recommend it.