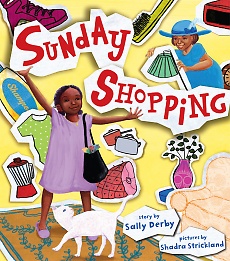 On Saturday I took leave from my art prison to visit with the wonderful librarians and young patrons at the Brooklyn Public Library. Award-winning children's book author and illustrator Pat Cummings is Brooklyn Public Library's 2016 Katowitz Radin Artist-in-Residence. Being the generous spirit that she is, Pat invited former students and illustrators she has mentored to facilitate workshops that teach storytelling and art skills through the development of a picture book.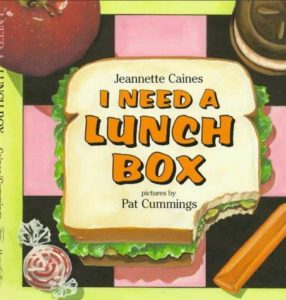 Our Saturday workshop showcased two complimentary books, Pat's I NEED A LUNCHBOX, and SUNDAY SHOPPING by Sally Derby and me. It was a perfect pairing!
We donned pink and purple boas to help set the stage. Kids loved trying on the feathers, even for a little while (they were a little too itchy to wear for long). The wonderful library staff joined in To make shopping bags from Kraft paper, pipe cleaners, and tape. Kids and parents dove in and decorated their shopping bags, then drew and cut out ten things they wanted to "buy" for the day- including things like baby brothers and rocket ships.
After a good amount of time passed, we invited kids up one by one to share some of the things they "bought". It was fun to see the similarities between shoppers, but overall each bag held very unique contents. A few parents helped give their bags makeovers to reflect the type of store at which they were shopping. How cool is that?
My favorite part of the day was talking to a mom who was bringing her son to the library for the first time. He was a rambunctious four year old who shopped for a flying carpet. The mom was really impressed with the library. I think we may have snagged a lifelong patron! I also loved watching kids and parents enthusiastically begin drawing and coloring before we even gave instructions. Many thanks to Pat and the BPL community. I had a great time!