Before Shadra was an author or illustrator, she was an Atlanta Public Schools elementary school art teacher! Her school visits are lively, interactive, educational, and fun! 
In book talks for kids Shadra shares a brief journey of how she became an artist, an interactive explanation of how books are made, and how she made her latest book. 
Shadra has taught book illustration and writing, along with professional development as a professor at The Maryland Institute College of Art. She has conducted workshops at The Highlights Foundation, The Society of Children's Book Writers and Illustrators, Picture Book Summit, and more!
I'd love to visit your readers!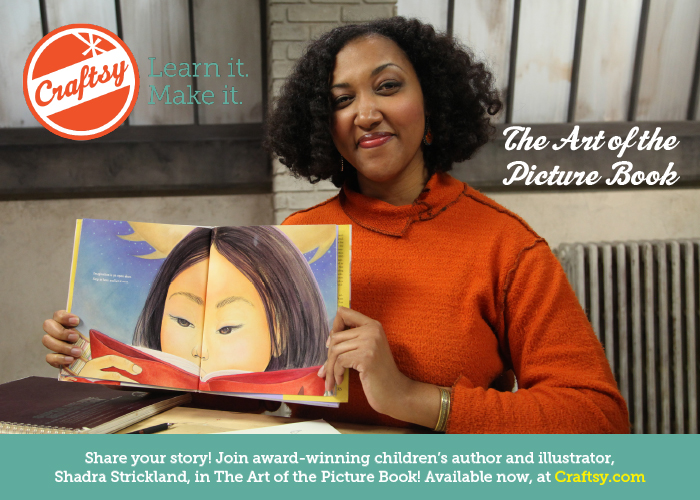 Whether your goal is to become a professional picture-book illustrator, or you simply want to illustrate books for a special child in your life, there's something for everyone to love in my "The Art of the Picture Book" class! This dynamic and engaging class offers insight on everything from how to create believable characters to how to submit your work to a publishing house.
"Hi Shadra, I'm a high schooler who chose writing and illustrating a children's book as my year-long project that my school requires. I was having a little trouble with the process, and I have to say, your videos simplify this process in an enjoyable way."​
"Hi Shadra! So far I am loving the course! Thank you so much! It has been my dream since childhood to work for Disney. I now have a little boy and love everything he does…so cute! I want to write stories for he and his peers and to document parts of his life. Thank you!!!"​
"Hi, I'm Paula and I am a writer and artist. I have been wanting to tackle a picture book and do the illustrations myself. My daughter wants to go to college to be an illustrator and I thought this would be a great summer project for us both! Thank you for teaching this class at such an affordable rate."
"I want to illustrate children's books, and I have been attending Academy of Art University, but have had to take some time off due to finances. Not wanting to get rusty, I found your class and thought it would be really good practice! I love your story ideas!"​